Perhaps the most ingenious device by which parents can filter what comes out of their televisions is TVGuardian.
- World Magazine
Technological Walls
By Gene Edward Veith
April 25, 1998
TVGuardian is a major breakthrough. It's a must for every family.
- American Family
Association
TVGuardian is a new invention for television that automatically filters out profanity and other offensive language.
It works on television programs and video movies.
TVG is not a blocking device like the V-Chip, it lets you enjoy the show, without the foul language.
Three closed-caption settings.
Strict and tolerant filter settings.
95% Average Accuracy.
TVGuardian easily connects between a TV and VCR, cable box, satellite receiver, or DVD.
BEST OF SHOW WINNER
1999
Consumer Electronics Show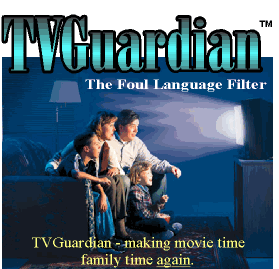 Entertainment Weekly Magazine's
#2 HOT TOPIC
September 25, 1998 Hot Sheet
TVGuardian is developed
and manufactured by
Principle Solutions, Inc.
All Rights Reserved.